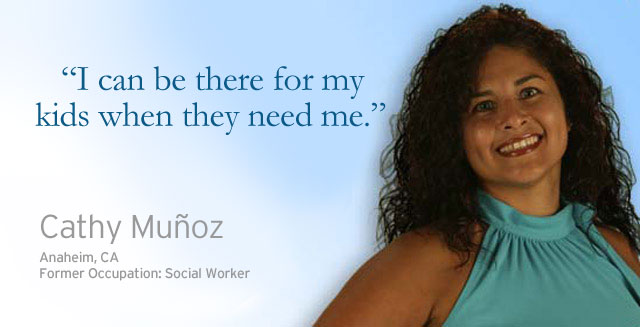 The Best of Both Worlds
"We were making pretty good money, but still living paycheck to paycheck," recalls Cathy Muñoz of the years before starting her Primerica business.  "Back then, my husband and I joked that we always remembered our trips because we'd still be paying for them a year later." 
When she first heard about Primerica, Cathy was working as a full-time social worker in Los Angeles, while her husband worked as a corporate buyer for a furniture store.  While they made a comfortable combined salary, what Cathy really longed for was more freedom and flexibility.  She found what she was looking for in Primerica.  "I joined the same night I attended a business overview," she recalls with excitement.  "I was so excited about the opportunity to have freedom.  What attracted me was the ability to work hard and retire young."
Before she could get her new part-time business off the ground, Cathy had to overcome some initial shyness.  "I was introverted," she remembers.  "It took awhile for me to make that first call."  Because she could start her new business on the side, Cathy was able to grow into her new role at a pace that was right for her.  "It was perfect because I was able to keep my full-time job and set appointments on weekends as I built my business."*
Look at Her Now
Cathy's life has completely changed.  She earns an amazing $154,058** annual income, her husband has left his job and joined her in the business, and the mother of four has the freedom and flexibility she always wanted.  "Whenever my nine-year-old daughter, Alyzza, has a school event, I have the flexibility to go to it," says Cathy, who also has seven-year-old twin boys, Daniel and David and a three-year-old, Roddie.
"When I was pregnant with our twins, I was on bed rest for six months.  I wasn't able to do much during that time, yet because of the business opportunity structure, my income actually grew!"
Cathy and others who have started a Primerica business enjoy the freedom and flexibility that come from creating a team of people who keep your business running when you need to take time for other obligations.
"I've been able to stay home for three months with each of my children after they were born, and my income was not affected," Cathy notes.
Freedom Plus the Income
Because of the financial rewards of her Primerica business, Cathy can afford a "nice neighborhood" for the family home, private school for her daughter and many vacations – including cruises and trips to Paris, Spain and Hawaii (eight times!).  "There are so many dream vacations we've had in the short period of time I've been with Primerica," Cathy reflects.  But the real rewards come from simply spending time with her kids.  "I can be there for my kids when they need me," she says. 
She continues, "When they're sick, I can stay home.  I can go to everything – ballet, tap, gymnastics.  With Primerica you're able to have the best of both worlds.  With corporate America, usually you have to choose between spending time with your family and not making a large income, or having a lot of money and no freedom.  At Primerica you have freedom plus the income."
Each quarter Cathy and her husband, Raudel, attend Alyzza's academic award ceremony, in addition to all of their children's other school events and parties.  "He's the only dad at many of these events," Cathy explains.  "And of the moms, only two or three ever come to all of them.  They just can't take the time off.  These families have the money to afford private school, but they don't have the freedom and flexibility to be there for their children's events.  They all ask me to share my pictures with them.  Because of the flexibility I have with my Primerica business, I can be completely involved in my children's lives."
*In Canada, the part-time opportunity is not available in all jurisdictions and, where it is available, is subject to certain restrictions.
**As of June 2013. From January 1 through December 31, 2012, Primerica paid a total of $509,227,049 in compensation to its sales force, at an average of $5,513 per life licensed representative. Actual gross cash flow is, among other factors, dependent upon the size and scale of a representative's organization, the number of sales and the override spread on each sale, and the ability and efforts of a representative and their downlines. Having said this, Primerica provides an opportunity for individuals who work hard to develop a business with unlimited income potential.
11PFS688