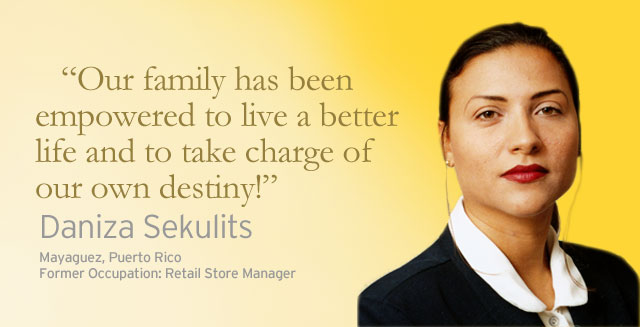 A few years ago, Daniza Sekulits and her husband, Eben La Casse, were living in Boston, MA. Like many young families, they worked hard to support themselves and their family but sacrificed precious time with the people they cared about.
"Eben and I each worked opposite hours to save on daycare expenses for our daughter, so we never saw each other," Daniza reflects. "We had these big dreams of owning a home and building our own business but neither were going to happen if something didn't change."
About that time, the young family decided to move back to Daniza's native Puerto Rico. "We wanted to become entrepreneurs and we knew it would be more affordable to live in Puerto Rico," Daniza says. "But, after we'd been there for about a year, it became clear that our savings weren't enough to fund the expense of starting a business."
That's when Daniza heard about the Primerica business opportunity. Because of Primerica's low startup costs, Daniza and Eben had the freedom to build a business without breaking the bank.
At the time, Eben was still learning Spanish but they knew they had what it took to make their business work. "It was a challenge, but Eben has been an incredible partner to me, both personally and in this business," enthuses Daniza. "He worked to keep us afloat in the beginning, all the while learning the language and immersing himself in the culture. We always felt like it was us, together, against the world – and that's evident by how strong we are as a couple and as business builders."
Daniza and Eben knew that their Primerica business would be the vehicle they needed to take them to the life of their dreams. "This business has reinforced the values we believe in," says Daniza. "Our family has been empowered to live a better life and to take charge of our own destiny!"
She continues, "Primerica changed our thinking and thus changed our reality. Here, you're asked for your best, and it is that challenge to be better and to help more families that makes this business rewarding on so many levels."
12PFS162